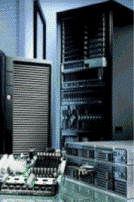 EUINCOOP - Fostering Cooperation in Computing Systems
EU-India Fostering COOPeration in Computing Systems (EUINCOOP) is Coordination and Support Action (CSA) project which is running for 24 months from 1 October 2011 to 30 September 2013 funded by European Commission under Seventh Framework Programme (FP7).
The main aim of EUINCOOP project is to foster collaboration and cooperation in the computing technologies field between both Indian and European research organizations and industry to achieve better understanding and future cooperation. Read More...
Cooperation priorities
EUINCOOP proposes to bring together researchers and stakeholders from EU and India under a widespread forum for analyzing research agendas in computing system. The following areas as priority will be addressed in the project:
Parallel and Concurrent Computing
Heterogeneous Computing Systems
Embedded System Applications
Multicore Systems-on–Chip
Virtualization
Constraints and Performance Ceiling Factors
By looking at the above topics, EUINCOOP will map out the research priorities and agendas in the above areas of computing systems in Europe and India, and will lay out the ground for common priorities and efforts.
Cooperation impact
The partners of EUINCOOP cover a broad spectrum of competencies: Academic, research, small business, consulting and industry. These competencies will be strengthened by those of an advisory group of experts in the field of computing systems, which will help guide our efforts. The project results will be a research roadmap that will promote useful information in terms of planned activities in both regions that can assist in the formation of research policy in computing systems in Europe and India.
Bring together the european and the indian computing system community
Identification of the major challenges faced in the field of computing systems
Creation of a research roadmaps in computing systems using the input of the european and indian polcies resources and needs
EUINCOOP Advisory Committee
EUINCOOP is a Strategic Project which intends to take a 'consensus building approach' by bringing together researchers and stakeholders from both regions under a common forum for discussing and analysing research agendas in computing systems. Through the sequence of structured workshops, channels of communication will be established between the provider constituency, and the research community.
This will be accomplished by convening a group of elite researchers and industry stakeholders from both regions in a common platform called the "EUINCOOP Advisory Committee".
The "EUINCOOP Advisory Committee" is a platform/Forum created by To Know more
EUINCOOP International workshop on next generation computing system EURO-INDIA collaboration in joint Research Activities, 4-5 April 2013, Indian Institute of Science, Bangalore India
The goal of the 'Future of Next generation Computing systems' workshop was to exchange the needs and priorities of Europe and India in super computing and high power computing domains with an aim to draw out a common research agenda in computing systems to facilitate international cooperation between the two regions.
It was a well represented event with participation from experts from Europe and India.
TOP
News
Events
Cooperation With other Projects
SYNCHRONISER - Enhancing the impact of the significantly progressing EU-India research policy dialogues in the Information Technology.
PlanetHPC – A unique forum for European researchers and industrialists to identify the research challenges facing High Performance Computing (HPC).
APOS-EU - Looking to foster collaborative research between European and Russian scientists. APOS will investigate technologies and develop tools for the software challenges encountered by computational scientists in the face of new trends in high-performance computing architecture development.
SCC-Computing - Aims at establishing a strategic collaboration with the host and developer of this computer system in China to explore a range of research issues.
HOPSA (HOlistic Performance System Analysis) - Project aims to create an integrated diagnostic infrastructure for combined application and system tuning.
Gallery